A family-run business delivering quality, service and value since 1933.
Clarke is a family business which is currently in our 4th generation of Clarkes. 
As one one of the leading privately owned multi-service transport organisations in the UK, we've built our reputation on quality, service and value over many years. 
We have more than 500 employees – and counting – as well as over 250 vehicles.
Our head office in the West Midlands is close to the M5, M6 and M42 motorways, and serves our impressive network of strategically located regional depots.
Clarke has a rich history that goes back hundreds of years.
Back in 1933, Clarke was established to provide the very first direct road service between the industrial Midlands and Scotland. This pioneering spirit has taken us forward to our current industry-leading position, and we now offer a wide range of delivery and warehousing solutions to many satisfied customers.
Today, we have grown to a 500 strong team and pride ourselves on innovation, professional expertise, years of experience, a commitment to quality and superb customer service.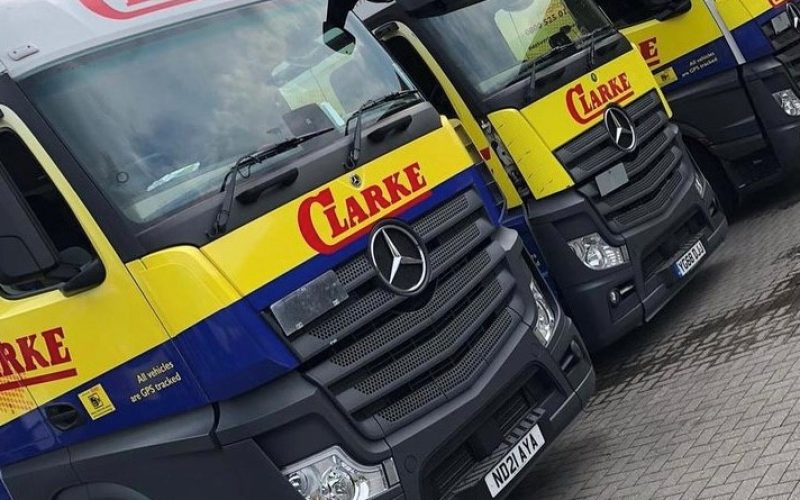 Birth of a Transport Empire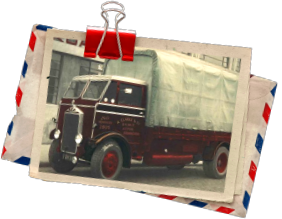 As a young man Alfred joined the Coldstream Guards with his brother, who went on to become a Sergeant Major. Unfortunately, Alf was taken ill, and it was discovered that he was only 15 so he was discharged.
He returned home and took on three jobs. Early each morning he worked as a tyre cutter, during the day he delivered coal with a horse and cart, and in an evening he worked as a doorman at the local cinema.
He met his wife-to-be, Anna, while she was working in a fish and chip shop. They married in 1923, despite her father's protests that she should keep away from the rough Clarke family. Anna was from Aston and Alf was from Ladywood, both now suburbs of inner-city Birmingham (and home of the finest football team, Aston Villa).
As time moved on Alf progressed from his horse and cart to delivering coal on an already worn-out truck. It was then Anna told him to stop gambling and save his money to buy a truck of his own. In 1933 Alf started the business with one truck and found his first paying load to deliver. This was to Scotland, and for more than 50 years as the company grew it was known as Clarke's, the specialist Scottish Carriers.
1933 - 1960
Clarke History
Early Days in Corser Street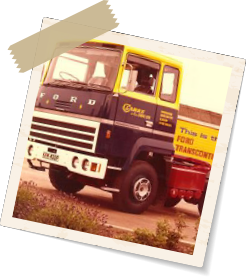 In 1933 the business was operating from Corser Street in Smethwick, where it steadily grew until 1960. In 1942 the military came, and even though Clarke's trucks were already being used in the war effort – moving arms and components around the UK – the best two trucks were commandeered for direct military use.
First Big Break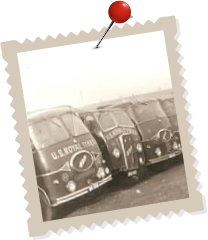 In 1951 the business was starting to flourish and Clarke's was offered the work distributing US Royal Tyres. Twenty-one extra trucks would be required, in addition to the existing six trucks working on general business. Alf needed to raise capital, so he borrowed money from the family, pawned their jewellery and emptied his three sons' piggybanks. All were repaid with interest within 12 months. The three sons – Alfred, Maurice and Bill – grew up working in the business with trucks in the back yard, but that's another story.
A Splash of Clarke Yellow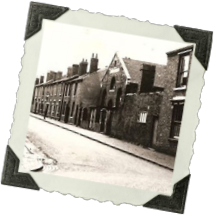 This picture was used for promotional work by both the local Ford dealer and ourselves. It shows our distinctive blue and yellow livery with red on yellow signage. The company colours came about because Bill Clarke had recognised years ago that all-blue trucks looked a little dull. Rather than completely respray the vehicles, which would cost too much money, it was decided to paint the top only. The colour was Volkswagen Yellow, though this is no longer used – it is also available as Clarke Yellow.
One Big Happy Family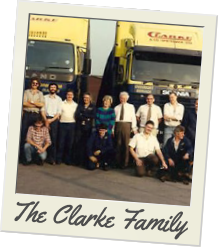 (This group photo was taken around 1985, and although some of the people on the picture have retired or moved jobs, several still work for Clarke's, including:)
Bill Clarke Senior - Managing Director, Robert Clarke - Operations Director, Bill Clarke Junior - Commercial Director, John O'Neill - Contracts Manager, Trevor Caron - Driver and Kenneth Pritchard - Driver.
Suits You Sir!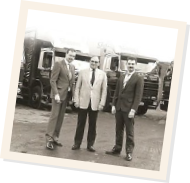 From left to right.
Robert Clarke – Operations Director
Bill Clarke Senior – Managing Director
Bill Clarke Junior – Commercial Director
They say that every picture tells a story, and this one certainly does! It's not just the slim young Clarkes with a full head of hair, but the fact that Robert hadn't bought a suit for the shoot. He had to borrow a somewhat smaller suit that day – check out the cuffs and the bursting buttons. But hey, he still managed to look cool.
We are proud to support a number of great charities through various events. Please take a minute to view their websites to see why we support these great causes.
Mary Stevens Hospice is a registered charity (517656). While we receive only 20% of our annual funding from the Government, we're able to offer our services for free thanks to the donations and support from our brilliant local community, who raise the other 80%.
It's thanks to our generous supporters that we are able to meet our £2.8 million annual running costs, so we can continue to relieve pain and prevent suffering; to give respite and support to those who need it.
Acorns Hospice Walsall (Black Country)
Established in 1988 we provide specialist palliative care and support to local life limited and life threatened children and their families across the heart of England for almost 30 years
In the last year, we have cared for 865 children and supported 1,088 families, including those who are bereaved across Birmingham, Coventry & Warwickshire, Walsall, Sandwell, Dudley, Wolverhampton, Worcestershire, Herefordshire, Gloucestershire, Staffordshire and Shropshire regions.
Birmingham Dogs Home was founded in 1892 on land made available by the late Sir Alfred Gooch Bart in New Canal Street, Birmingham. Sadly this building, which over a century later still had 'Birmingham Home for Lost and Starving Dogs' proudly displayed above its doors, was destroyed in a fire during 2014 – but from the foundations established at this humble building, the charity continues to exist and grow.
Clarke Transport has been a breath of fresh air. They are a big company with a 'Family' attitude, providing a personal touch whilst achieving a very professional service. My staff has nothing but praise for the service they receive when contacting them
The excellent communication from the Clarkes staff on any issues no matter how large or small keeps us and our customers appraised of the movement of their orders. I would highly recommend Clarke Transport for any business looking to improve their Logistics services.
We have been using the delivery service for 8 years, and in that time, we have built a good working relationship with both the transport office and the drivers and the sales team. All of the collection drivers that we deal with on daily basis are extremely helpful, patient and help where needed.